jane iredale Mineral Makeup: A Brief Review
Jane Iredale is the founder of a breakthrough makeup company, Jane Iredale Mineral Makeup. Before starting a company in the cosmetics industry, she had a long stint in show business including television, stage, and film. Throughout her career she has worked with some of the best makeup artists in the world. This experience has taught Jane Iredale that the best mineral makeup should enhance the natural beauty of a woman instead of trying to make her face conform to fads and trends.
In show business, complexion can make or break a career. Skin disorders can be detrimental to self esteem as well. All women deserve to have beautiful skin and makeup that makes them feel good about themselves. Jane Iredale decided it would be her mission to create a line of mineral makeup that would help women in their everyday lives by improving the condition of their skin.
Mineral Makeup by Jane Iredale is so beneficial for the skin it is recommended for purchase by plastic surgeons and dermatologists all over the world. It is made from all natural ingredients and does not contain paraben or phalates. Jane Iredale mineral makeup will not clog pores and has virtually no allergy risks. The makeup offers full spectrum sun protection from both UVA and UVB rays at an SPF of 30. Jane Iredale has anti inflammatory properties that help calm and soothe irritated skin and offers enough coverage to conceal acne and rosacea without further aggravating the condition. Jane Iredale never tests on animals either.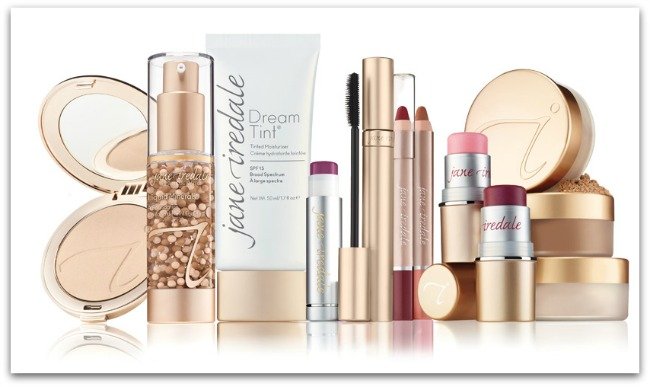 Jane Iredale Mineral Makeup does not use talc or any other fillers so the pigments are concentrated, allowing for full coverage with minimal product. One application is quick and easy, and does the work of three products, acting as foundation, powder, and concealer. There are no added oils or dyes in this makeup.
Jane Iredale created a makeup line that covers every type of makeup that any woman would buy. The line contains liquid and powder mineral makeup foundations, as well as concealers. The concentrated pigments in Jane Iredale's mineral makeup make for stunning eyeshadows. They are easily blendable and good for the delicate skin around the eye. Eye liners and eye pencils can be a big source of irritation for many women. The mineral makeup eyeliners offer unparalleled color and richness while protecting the eye area from bacteria and irritating chemicals. Jane Iredale mascara contains nutrient ingredients that help eyelashes to grow while offering the best color and lengthening.
The Jane Iredale line of mineral makeup blushes and bronzers give the sun kissed look without the dangerous exposure to the sun. All lip products are made with all natural plant ingredients to help keep lips hydrated and conditioned while perfectly colored. There is truly something in this collection for every woman to buy, and any woman could replace all her makeup with this fabulous, skin friendly collection of mineral makeup from Jane Iredale.
Jane Iredale recognized that it is important for every woman to feel beautiful and unfortunately, there are many of us that don't. Those with sensitive or break out prone skin sometimes need the extra boost a little more than others. It is wonderful that Jane Iredale created the mineral makeup line that can be worn by all women, even those with sensitive problematic skin. She has brought a blessing to women everywhere.
By Fiona Shearer