Focus On Youthful-Looking Skin
DISCOVER ENVIRON'S COLLECTION OF POWERHOUSE FORMULATIONS DESIGNED TO FOCUS ON FIRMER, HYDRATED, YOUTHFUL-LOOKING SKIN WITH ENVIRON'S VALUE OFFER
COSMETIC FOCUS-CIT
This meticulously crafted small stamp has been specifically designed to enable you to focus on specific and hard-to-reach areas as your upper lip and eye areas. This needling device is embedded with durable 0.1mm stainless steel micro-needles. Ask your Environ SkinCare Professional about our other skin needling and skin tech home devices.
YOUTH ESSENTIA® EYE GEL
This eye gel contains essential vitamins, antioxidiants and specially selected peptides for use on teh delicate and sensivive eye area. It assists in hydrating the skin and minimising the appearance of fine lines, helping skin to look younger for longer. At the same time, it helps to improve sun damaged skin cells and enhances the effects of the skin's natural sun protectors, giving skin a radiant glow.
3DSYNERGÉ FILLER CREMÉ
Formulated with an intelligent Hydro-Lipidic approach, this advanced powerhouse booster targets the appearance of lines, wrinkles and loss of volume to help you focus on visibly smoother, firmer, naturally fuller-looking skin.
HYDRATING OIL CAPSULES
These capsules deliver a concentrated burst of vitamin enriched hydration for the skin. Containing a blend of Retinol and Antioxidants, they may help to protect the skin against damaging effects of free radicals. They assist in enriching skin with natural surface oils, leaving it looking visibly refreshed and energised.
SKIN ESSENTIA CLAY MASQUE
This luxurious, creamy clay masque assists in absorbing excess surface oils and gently polishes the appearance of the skin's surface, leaving it feeling smoother and looking more radiant.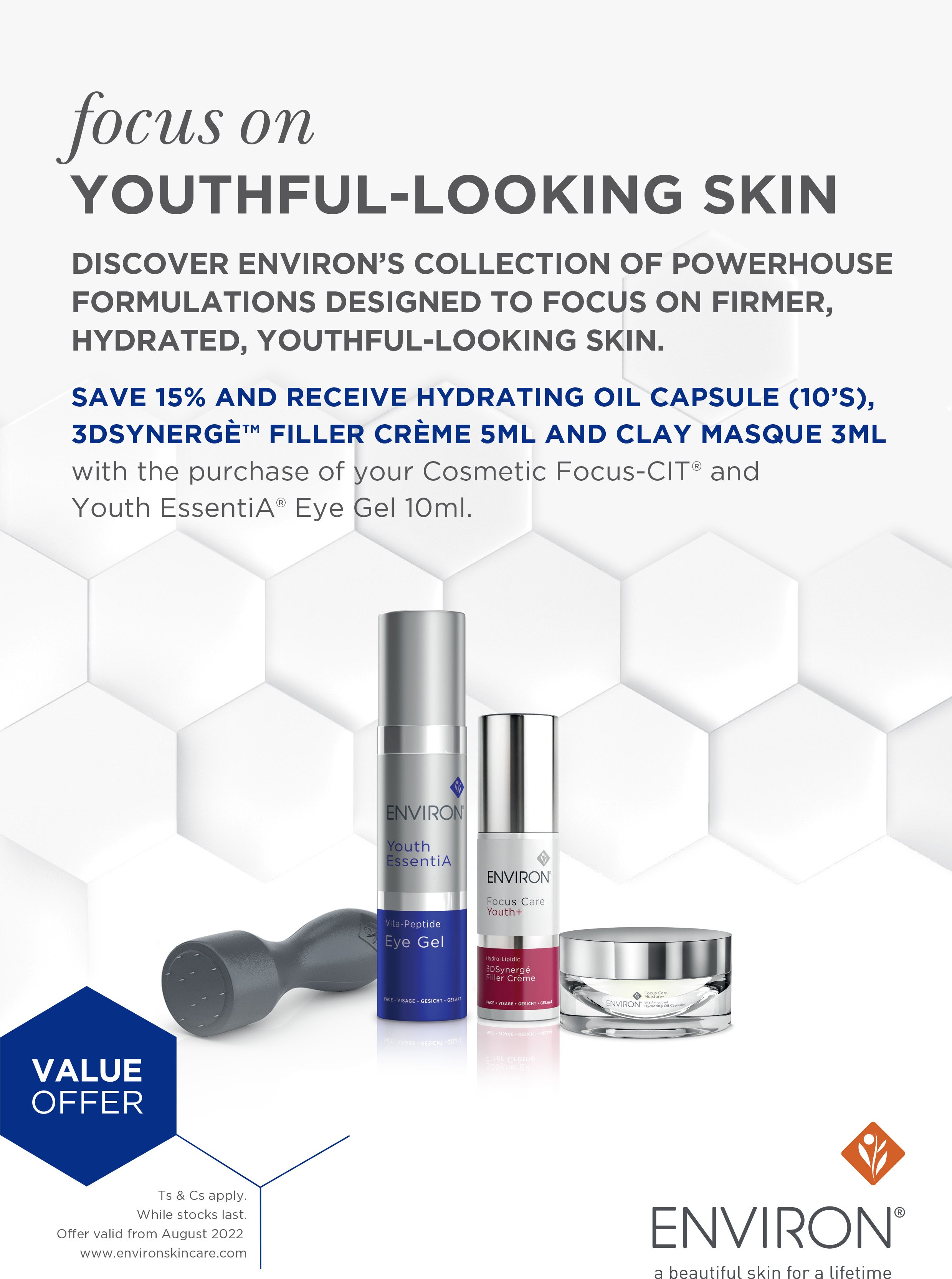 PARTICIPATING STOCKISTS
NORTHLAND
Essentially Skin
Whangarei
09 438 8915
RODNEY DISTRICT
Bliss Beauty Therapy
Mangawhai
021 151 8588

Blush Beauty Lounge
Matakana
09 422 9007
Beautymed
Mangawhai Heads
021 177 0351
AUCKLAND
About Face
Mairangi Bay
09 479 4137
Mt. Eden
09 623 8400
Ponsonby
09 378 4140
Remuera
09 524 4245
St. Lukes
09 815 0147
Sylvia Park
09 573 0345
Te Atatu Peninsula
09 834 4018

Malkia Beauty
Royal Oak
09 620 6350

Escape Day Spa
Takapuna
09 486 1231

Beautilase
Glenfield
09 442 2603

Esteem Beauty & Skin Therapy
Milwater
027 662 4833

The Face Place
Auckland Central
09 358 5860

Form & Function - Osteopathic Edge
Three Kings
021 353 737


Beauty By Appointment
St Heliers
027 277 9607

Mooi Skin
Howick
09 218 9689
Soma Day Spa
Howick
09 535 5455
Skin Passion
Red Beach
09 426 4950
Silk La Boutique
Remuera
09 523 3889
U Health Beauty
Pukekohe
09 239 0311
Skin Wellness
Mairangi Bay
021 046 7896
Elilac Beauty
Meadowbank
09 218 3989
Pour Vous
Swanson
021 050 4269


Perpetual Beauty
Albany
021 167 6470
Headstart Total Body
Glen Eden
09 818 5283
Cinderella Beauty
Albany
09 443 4688

Newmarket
09 523 4688

Sylvia Park
09 570 4688


Beauty By Fern
Pakuranga
021 922 495
Podspa and Laser
Mt Eden
09 950 6276


Infusion Skin Body Hair Nails
Hilsborough
https://www.facebook.com/beautymednz/
MATAMATA
Gloss Beauty Boutique Ltd
Matamata
07 888 9960

The Beauty Loft
Waihi
027 342 7244

HAMILTON
Cambridge Advanced Skincare
Cambridge
07 827 7726
Waters On Victoria
Whitiora
07 838 2202

Unique Skin and Body
Hamilton East
07 856 6057

The Little Loft
Hamilton
027 372 3989

BAY OF PLENTY
Nurture Holistic Beauty
Tauranga
027 482 7555
About You
Tauranga
021 528 662
The Beauty Loft
Waihi
027 342 7244
NAPIER
The Beauty In You
Meeanee
06 835 4372

The Laser Room Hb Ltd
Taradale
06 876 4718
HAWKES BAY
Dermatology Hawke's Bay
Havelock North
06 877 1855
GISBORNE
Juve
Gisborne
06 867 1234
HAWERA

Glow Beauty
Normanby
06 278 4443
WHANGANUI
The Edge Beauty Studio
Whanganui
06 348 7557
PARAPARAUMU
Finesse Beauty Therapy Ltd
Paraparaumu Beach
04 902 6618
WELLINGTON
Beauty @ Home
Petone
04 566 9362
NELSON
Quartz Beauty Ltd
Richmond
027 6977290
Replenish Beauty
Stoke
03 547 4543

REWICK
Marlborough Medi Spa
Renwick
027 274 4334

CHRISTCHURH
Aura Beauty
Rollerston
027 280 1380


Northwood Skin & Body
Belfast
022 313 0248

Acacia Skin Health & Beauty
Bishopdale
03 360 2244
Aura Beauty
Rolleston
027 280 1380
DUNEDIN
Beauté
Dunedin
03 477 7223